... see that you also excel in this grace of giving.
2 Corinthians 8:7



HOW YOU CAN HELP
First and foremost, please pray that Grace of Givingís ministry will always fulfill Godís will for its existence and always glorify God in all its efforts.
Please also prayerfully consider whether you can financially support Grace of Givingís ministry on a monthly basis. Here are some examples of how your financial support affects people:
$10 per month buys 5 Spanish language Bibles, which are used to disciple new believers whose doors were often first opened to the Gospel by gifts of beans and rice.

$25 per month purchases about 125 pounds of rice, providing about 60 people with one meal per day for a month.

$60 per month purchases 100 pounds each of rice and beans, providing substantial nutrition to about 100 people for a month.

$100 per month will purchase nearly 600 pounds of flour, which can be used to prepare literally thousands of tortillas.
No gift is too small. Many canned vegetables cost only 40-45 cents per can.
Our priorities for using your gifts are to purchase food and to purchase fuel to deliver the food. The officers of Grace of Giving accept no compensation for their services and currently cover all of their travel expenses.
Thank you for your support!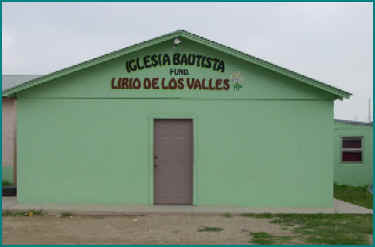 Lily of the Valley Baptist Church in Ciudad Acuna, Mexico distributes food
provided to Voice of Mexico Ministries by Grace of Giving
How We Serve | Who We Serve | How You Can Help
Photo Gallery | Newsletters | Financial Reporting | Contact Us
Officers and Directors | Return To Home Page
---
Grace of Giving
P.O. Box 481
Clifton, TX 76634-0481

Grace of Giving is a non-profit, charitable organization that is exempt from federal income tax as a 501(c)(3) organization.

Accordingly, the Internal Revenue Service has advised that all contributions to Grace of Giving may be deducted
for federal income tax purposes as specified in section 170 of the Internal Revenue Code.