Voice of Mexico Ministries
Voice of Mexico Ministries is an independent ministry in Del Rio, Texas, operated by Charles Knaack. Charles plants churches in Ciudad Acuña and surrounding areas in Coahuila, Mexico, and provides assistance to children's homes and existing churches in Ciudad Acuña, Jimenez, San Carlos, Piedras Negras, and Monclova, Coahuila. On average, 1,200# of beans and 750# of rice, together with other food staples and personal items, are delivered to Voice of Mexico and to the other ministries assisted by Voice of Mexico every three weeks.

We have in the past delivered the entire Voice of Mexico allotment to Charles and his associates in Del Rio. This meant that those from outside Acuña often had to travel a significant distance to pick up their food (for example, Piedras Negras/Del Rio is a 120+ mile round trip). In an effort to make food collection less burdensome, in January, 2006, we began to deliver items for Piedras Negras, Jimenez and Monclova to Eagle Pass, Texas, where they are collected and distributed with less travel involved.

The ministries served through the Eagle Pass deliveries include:
• Iglesia Bautista Nueva Esperanza, pastored by Brother Isaias Silas in Piedras Negras.
• Casa Hogar Galilea, a children's home in Monclova, operated by Sister Beatriz Franco Salazar and her devoted colleagues.
• Casa Hogar Nueva Fuente de Vida, a children's home with facilities in Ciudad Acuña and in Jimenez, operated by Dr. Chavez.
Crossing Borders Ministries
Working from First Baptist Church in Fabens, Texas (about 25 miles southeast of El Paso), as Mission Service Corps Volunteers, Joan Wilson and Elfi Register help to meet the daily living needs for 15+ pastors and their families that serve churches near Fabens in Mexico. Each pastor is provided enough food for his family on a weekly basis and is also equipped to assist others in his area by being supplied with bean and rice food packets to distribute. Grace of Giving supports Crossing Borders' efforts by delivering 2,250# of rice, as well as canned goods and personal necessities, every three weeks.
Pastors in Presidio/Ojinaga
Grace of Giving delivered food to the Big Bend Baptist Church Food Pantry in Terlingua from June 2004 until May 2006. Much of that food was then distributed to pastors in Presidio/Ojinaga to help to feed more than 100 families in that area . From July 2006, these needs (approximately 2,000# of beans and 1,000# of rice every three weeks) are being met by direct food deliveries to Presidio, to allow for more efficient and timely local distribution.
Bernie Segura, Evangelist
Bernie Segura is a evangelist in Van Horn, Texas, who pastors three Baptist Churches in Mexico, in the villages of Lomas de Arena, Presidio de Pilares and Ejido Nuevo Porvenir, Chihuahua, Mexico. Food is difficult to come by in this poor area of Mexico, and Bernie, together with his wife, Gracie, ministers by conducting services and delivering food provided by Grace of Giving (on average, 400# of beans and 400# of rice every three weeks, along with canned goods and personal necessities).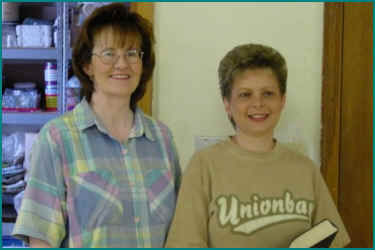 Joan Wilson & Elfi Register operate Crossing Borders Ministries 
at First Baptist Church in Fabens, Texas