HOW WE SERVE
Grace of Giving serves God by acting as the "middle man", that is, we provide goods and services to existing ministries along the Texas/Mexico border so that they can more effectively conduct their outreach efforts without having to concentrate as much on sourcing their needs.
Grace of Giving's principal activity is to deliver bulk rice, beans, sugar and flour, together with canned goods and personal items, to our "partners" every three weeks. We purchase all new items using donated funds, and then transport them to the border in a 6' x 12' covered trailer, which has a capacity of 6,000 pounds.
There are no denominational boundaries to God's love, and we will serve anyone in need, resources permitting.
We also seek to be sensitive to God's leading in our ministry and to be flexible in how we serve. For example, in September, 2005, we took two teams to Jimenez, Coahuila, Mexico, and constructed two new 16' x 20' houses in less than a week. These houses were given in God's name to Gabriella and Dora, single mothers with children who desperately needed new housing.
God blessed us even further in 2006 by providing the resources for us to build three houses, again in Jimenez. A total of 40 volunteers labored in love during the first week of November, 2006, to complete these houses. Again, they were provided to single women with children who had a pressing need.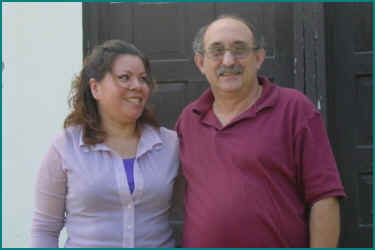 Charles & Reyna Knaack of Voice of Mexico Ministries in Del Rio, Texas